QuickBooks is the most popular accounting software for small and midsize businesses in the United States. And Fishbowl is the most popular manufacturing and warehouse management software for QuickBooks. Put these two solutions together and you've got one powerful combination of accounting and logistics management.
We're going to talk about many aspects of Fishbowl's seamless integration with QuickBooks.
A FRESH START WITH FISHBOWL AND QUICKBOOKS
Has your business outgrown its old inventory control system? Fishbowl can help by offering a fresh start. Fishbowl integrates seamlessly with QuickBooks, and it gives you access to the inventory control features you need in order to handle the complexity of your daily inventory operations.
By itself, QuickBooks isn't equipped with the software features necessary to effectively manage large amounts of inventory in multiple locations. It's a great accounting solution, which is why so many small and midsize businesses use it.
When you get bigger you don't have to throw the baby out with the bathwater and move off of QuickBooks to a more expensive ERP system. You can stay with QuickBooks for many years and take advantage of advanced inventory control features by using a combination of Fishbowl and QuickBooks.
Fishbowl automatically updates QuickBooks after you receive sales orders from customers, order items from vendors, process returns, and perform many other transactions. You don't have to enter the same data in two places. Fishbowl handles that for you.
Starting fresh with Fishbowl this year doesn't mean you have to give up the good you already have. Keep using the accounting software you're accustomed to and add Fishbowl to it to finally achieve the level of efficiency in your warehouse and other business processes that you've been wishing for.
QUICKBOOKS INVENTORY MANAGEMENT IS A MUST-HAVE FOR GROWING BUSINESSES
What is the best accounting tool for your company? According to a recent CNN article entitled "Accounting tools for a growing business," it might just be QuickBooks.
"QuickBooks takes care of all of a company's financial tasks, including maintaining the general ledger, accounts receivable and payable, and inventory. For an extra monthly fee, business owners have access to payroll processing services and can scan and deposit checks directly to their bank."
QuickBooks is quite useful. I'd like to take this a step further, though, and say business leaders who want to take control of their finances should use not just QuickBooks, but QuickBooks inventory management.
The article, which was written just before the release of QuickBooks 2011, included this statement: "QuickBooks has basic inventory controls." This isn't exactly true anymore. More recent versions of QuickBooks have expanded on the accounting software's inventory management features in its QuickBooks Enterprise solution. However, it still doesn't have all of the features that small businesses need to effectively manage their inventory, especially as they grow.
Fishbowl does. That's why it's been the #1 requested inventory management solution for QuickBooks users for more than a decade. Take a quick tour of Fishbowl to see its capabilities, from tracking products across multiple locations to simplifying the ordering process.
Fishbowl integrates seamlessly with QuickBooks, which saves managers the trouble of inputting the same information into two different systems. What a time saver!
As you search for the right accounting software for your company, you should also take a look at inventory management software. You'll probably find that Fishbowl's QuickBooks inventory management solutions are just what you've been looking for.
WITH FISHBOWL, YOU DON'T HAVE TO LEAVE QUICKBOOKS
Are you considering (or have you already tried) moving away from QuickBooks to an enterprise resource planning (ERP) solution?
Many small and midsize businesses discover that ERP software has more features than they know what to do with and it's far too expensive for them to purchase and maintain year after year.
There is the software cost, the training cost, the significant downtime while you switch over, the often higher cost of finding new employees who have experience with the new software, annual maintenance fees, and many other costs you need to factor into your decision.
It would be a lot easier and simpler if you could just stay with QuickBooks and find a way to add advanced inventory management features to it. Fishbowl lets you do that.
A combination of Fishbowl and QuickBooks is much cheaper than an expensive ERP, and it gives you more flexible options. If, for example, you don't need full inventory tracking features for multiple warehouses, you can hold out on getting Fishbowl Go until you actually need those features. And you can add more software users as time goes on, rather than having to purchase far more than you need right now.
Fishbowl offers products with numerous inventory management features to help you stay in control of your growing operations:
Automatically reorder products when they get low.
Speed up the picking, packing, and shipping processes.
Generate and print barcodes for every item in your warehouse.
Track inventory levels across multiple locations.
Automatically update QuickBooks through seamless software integration.
Don't worry about making the huge jump to an ERP when you can keep using QuickBooks and save a lot of time and money with the addition of Fishbowl.
WHY MANY BUSINESSES ARE COMING BACK TO QUICKBOOKS
QuickBooks dominates the financial management software market for small businesses with 20-500 employees. Entrepreneurs love QuickBooks' user-friendly setup, which allows them to keep their finances in order without having to be accounting experts.
But as small businesses mature into midsize businesses, they often discover that QuickBooks can't handle their inventory management needs. So they think they have to switch to an expensive ERP system to meet their growing needs because that's what many large companies do.
The problem is that midsize businesses usually can't afford to make such a big investment and they generally use only a small portion of the features in the new ERP system. Here are three main reasons why many of them are returning to QuickBooks:
More Affordable. ERP systems often charge hundreds of thousands of dollars for the software, installation and training, and that's just the start. Each year, they charge BIG dollars in maintenance and renewal fees. This makes ERP seem like an unattainable goal for many businesses because they simply can't afford to pay that much upfront, let alone year after year.
Fishbowl Integration. Fishbowl brings advanced inventory management features to QuickBooks' accounting features. With this QuickBooks inventory control combination, users get pretty much the same features they were looking for in another ERP system, but for a comparatively low price. Fishbowl allows midsize businesses to finally move up to an advanced ERP system.
Easier to Use. Living up to its parent company's name, QuickBooks has an intuitive interface that makes it easier to print invoices and monitor assets, liabilities and all that good stuff. QuickBooks is generally easier to learn and use than big ERP systems. Plus, many midsize-business leaders are already familiar with the software because they used it for years. It's like riding a digital bicycle.
If you would like an ERP system with integrated accounting and inventory management features, be sure to check out Fishbowl. By integrating Fishbowl and QuickBooks, you can get pretty much all of the business tools you need for a much lower price than you would pay for an ERP.
QUICKBOOKS USERS' FISHBOWL REVIEWS
Let's share some specific examples of what Fishbowl customers have to say about their experiences with the inventory management software. Many of our customers are also QuickBooks users, so they have a firm grasp of both the accounting and inventory control needs of their businesses.
Fishbowl is the No. 1 inventory management software for QuickBooks users for a reason. We work hard to keep our software full integrated with QuickBooks, and the results speak for themselves. The following Fishbowl reviews are taken directly from the Intuit Marketplace.
We Love Fishbowl
This reviewer begins by saying, "Fishbowl is the perfect answer for our business." She then proceeds to explain why this is true, pointing out the usefulness of Fishbowl's inventory tracking, storing, and fulfillment features, as well as its custom reporting capabilities. She then mentions Fishbowl's seamless integration with QuickBooks and ends with one final affirmation, "Personally, the best thing about Fishbowl is the tech support staff. They really know their stuff!"
Thank Goodness for Fishbowl
After explaining their experience trying to work with a $100,000 enterprise solution, this reviewer explains that it just wasn't what they needed to manage their inventory. They finally cut their losses and investigated three inventory management solutions and then bought the least-expensive one: Fishbowl. "We paid less than 10% for Fishbowl than what we did for our 'nightmare' experience with the other enterprise solution," they said. Fishbowl has been exactly what they needed, helping them manage multiple locations and thousands of products.
Revolutionize Your Business
The Mending Shed notes that they struggled for a long time to use QuickBooks to handle their increasingly complex inventory management processes. They had several people working on purchase orders, but even they couldn't prevent shortages and overstock because of the inexact system they were working with. Fishbowl allowed them to set reorder points on parts and products so they wouldn't run out or get too much in stock. It also reduced their workforce needs, cut back on training time for new employees, and made many other changes that saved the company money and made it more efficient. They end their review by saying, "If you are making plans on how to boost your bottom line, you should seriously consider Fishbowl as part of the solution."
Support by Benson
This review is full of praise for one of Fishbowl's support representatives, Benson Cluff, who helped them figure out some really detailed questions about navigating the software. "He was able to provide quick, clear responses and helped us craft a solution to a complex problem," the reviewer says. Fishbowl does its best to respond quickly and precisely to our customers' questions and concerns. It's wonderful to hear such praise from this customer.
Database Help
This reviewer gave Fishbowl five-star ratings across the board in ease of use, features, quality, performance, support and service, and value. Their comments were equally full of praise. They mentioned that another of Fishbowl's support representatives, Dallin Wood, worked closely with them to show them how to set up a backup database. They say they are pleased with Fishbowl's support staff. "We have had multiple calls to Fishbowl looking for help and every time our issues are resolved in a professional manner."
These reviews are from 2003 to the present. Many things have changed in Fishbowl and QuickBooks over those years, but our customers have been consistent in their praise of Fishbowl and its efforts to serve them.
FISHBOWL EARNS NEAR-PERFECT RATING FROM INTUIT
We've heard from QuickBooks users about what a great product Fishbowl is, and now we're going right to the source to find out what Intuit thinks of Fishbowl. Intuit is the maker of QuickBooks and they did a ProAdvisor review of Fishbowl that highlighted its many strengths.
The reviewer, Inga Arendt, gave Fishbowl (and its warehouse management app, Fishbowl Go) a rating of 9.5 out of 10. That's a spectacular rating, showing what a high-quality inventory solution Fishbowl is.
Fishbowl's Strengths
Arendt does a great job of summarizing the benefits of using Fishbowl in her first sentence: "Fishbowl is an in-depth inventory management product that offers key features needed by retailers, manufacturers, wholesalers, distributors, and even service companies while offering a seamless integration with QuickBooks."
She shows how each of these companies could use Fishbowl by listing many of its features, including barcoding, multiple location tracking, cycle counting, point of sale, and QuickBooks integration.
Another product is Fishbowl Hosted Services. Using this service, Fishbowl users can get Fishbowl Manufacturing or Fishbowl Warehouse automatically installed on their server, saving them several steps. There are other advantage of using hosting services, including data security, easy server access from any location, and no need to invest in new software every few years.
Any Weaknesses?
After going through Fishbowl's strengths, Arendt briefly notes, "There are no obvious limitations to this product at this point." Amazing! Fishbowl has invested a lot of time into improving its inventory management software, so it has definitely earned that statement.
Fishbowl's inventory specialists will continue to make each new version of Fishbowl more user-friendly and intuitive. And they'll work on turning Fishbowl's near-perfect score of 9.5 into a perfect 10 someday!
FISHBOWL OFFERS SAFETY IN NUMBERS
In addition to the 10 things Fishbowl can do that QuickBooks can't, there is another advantage Fishbowl has over QuickBooks, and that is its ability to record everything a user does while logged in.
Why is this an important feature? We'll tell you by sharing the experience of a Fishbowl user.
Unauthorized Changes to QuickBooks
One of our customers told us that they were concerned that one of their employees was fraudulently making changes to their QuickBooks file. But they had trouble pinpointing exactly where those changes were being made because QuickBooks allows for after-the-fact changes to sales orders, purchase orders, and inventory numbers. This company has a large number of transactions, so it was nearly impossible for them to check every one on a regular basis.
They started using Fishbowl to rectify this unfortunate situation. Fishbowl isn't an accounting solution, but it does work closely with QuickBooks, telling it when to generate invoices and keep track of sales and purchases of products and other materials.
Most importantly, once a transaction is made, a permanent record is also made so that the accountant can easily track those transactions back to their source. In accounting terms, Fishbowl is GAAP compliant.
Fishbowl Records Changes
Whenever someone is logged into Fishbowl and they create an order, modify one, delete one, or do just about anything else, the software records all of those actions. So if an administrator notices that some numbers don't add up or something else seems to have gone wrong, they can go in and see who was logged in at the time the problem occurred and then talk to the responsible party.
QuickBooks alone couldn't give this assurance and peace of mind to that customer. Once the Fishbowl customer had concrete evidence that inappropriate things were happening, they were able to resolve the problem quickly.
Safety in Numbers
Fishbowl offers safety in numbers. It helps you keep errors from creeping into your data and it also lets you find and correct unauthorized changes that have been made to orders or other essential documents. Plus, it has served, and continues to serve, thousands of businesses across the United States, Canada, Australia, and other countries.
Fishbowl is an inventory control solution you can trust with your sensitive data because it puts you in control of your inventory.
WHAT QUICKBOOKS IS AND HOW FISHBOWL INTEGRATES WITH IT
Here are two videos that explain what QuickBooks is and how Fishbowl integrates with QuickBooks. They also talk about the benefits of using them in conjunction.
What Is QuickBooks?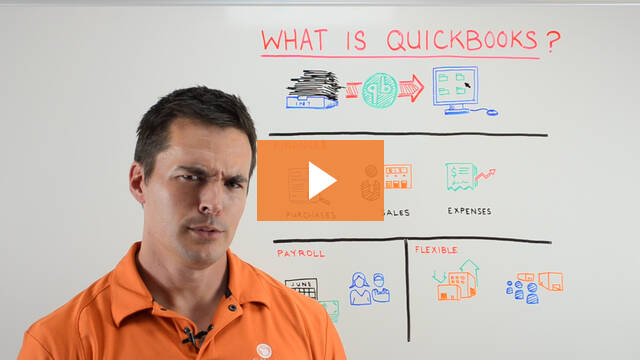 Fishbowl's Integration with QuickBooks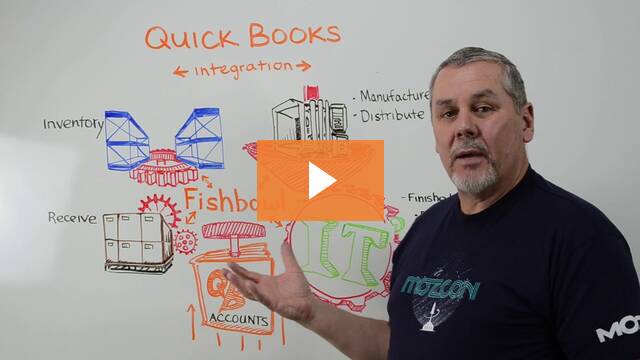 4 CRUCIAL POINTS TO CONSIDER BEFORE SWITCHING TO QUICKBOOKS ONLINE
Intuit is really pushing QuickBooks Online over the desktop versions of QuickBooks, and many companies are happily jumping on board. But is this really the best move for your business?
It might be a fantastic idea to switch to QuickBooks Online, but it's a decision that must be made after considering all of the ramifications.
Is It Worth the Increased Cost?
Intuit encourages customers to get QuickBooks Online by offering limited-time discounts on its monthly fees. But even with the discount, you'll find that over the course of several years you'll paying more for it than if you had paid an upfront price as you do with the desktop versions.
This is part of a larger trend. Photoshop, Microsoft Office, and many other popular desktop solutions are moving to a SaaS model, just like QuickBooks Online. You have to decide if it's more cost efficient to make a one-and-done purchase or pay a monthly fee for as long as you use the software.
Are Its Features Up to Snuff?
QuickBooks Pro has more features than even the most expensive version of QuickBooks Online. From tracking job costs to generating reports, just about every feature in the desktop version of QuickBooks is superior to QuickBooks Online.
If you're used to the more advanced features in your current version of QuickBooks and you would really struggle if you had to give them up, you would probably be better off staying where you are. But if you want to be able to access your company file in more locations and you don't mind fewer features, QuickBooks Online is certainly a viable option.
Does It Integrate with Your Other Software Solutions?
The QuickBooks desktop solution has hundreds of integrations with other business solutions – and QuickBooks Online has even more. So if your current version of QuickBooks integrates with your ecommerce platform, inventory management software, payment processor, and point of sale solution, you can safely bet that QuickBooks Online will also integrate with them.
How Much Tech Support Will You Need?
QuickBooks Pro, Premier, and Enterprise have free 24/7 support in the first 12 months for certain questions, such as installing the software, upgrading it, creating a company file, and setting up multiple users. Other "how to" questions can be answered at a price and only during specific business hours, usually Monday through Friday, but some on weekends, as well.
QuickBooks Online's technical support is free, but it's only available during limited business hours. So you'll have to take your pick of which is less inconvenient. More hours but fewer answers at a price or fewer hours but more answers for free.
It's Your Call
So, is QuickBooks Online worth the switch or are you better off staying with a desktop version of QuickBooks? Only you can answer that question. It depends on the factors we've discussed. Over time, QuickBooks Online is sure to improve and may even overtake all desktop versions. But you must decide when its features, price, integrations, and support options make it worth the effort.
Fishbowl is a fantastic option that integrates with both QuickBooks and QuickBooks Online, so you can keep using its advanced inventory management features, no matter which of these accounting solutions you use. It can also help smooth out the transition. You can continue to use the same inventory management solution even as you move into new territory on the accounting side.
FISHBOWL NAMED THE BEST WAREHOUSE MANAGEMENT SYSTEM FOR QUICKBOOKS USERS
Explore WMS put together a list of "Five of the best WMS for single warehouse operations," and Fishbowl was at the top of the list. Each of the warehouse management solutions they included on the list was focused on a different area, and Fishbowl's main strength is that it is an ideal solution for QuickBooks users.
That should come as no surprise to people familiar with the software. But it doesn't hurt to refresh our memory about why Fishbowl is so popular among small and midsize businesses that use QuickBooks for their accounting.
Here are some of the biggest reasons why Fishbowl is the best warehouse management system for QuickBooks users. Fishbowl:
Is the #1 selling manufacturing and warehouse management solution for QuickBooks.
Was one of the first Intuit Gold Developers, and has remained one for more than a decade.
Integrates seamlessly with all desktop versions of QuickBooks (Pro, Premier, and Enterprise).
Integrates seamlessly with QuickBooks Online.
Eliminates double data entry by automatically updating the accounting records.
Offers multi-currency conversions that integrate directly to QuickBooks.
Allows SMBs to stay with QuickBooks for many years, instead of switching to an expensive ERP.
See for yourself why Fishbowl is the best warehouse management system for QuickBooks by signing up for a free trial!